ANTHONY TURNER
SKIPPER

SNORKEL GUIDE
Anthony is an experienced and passionate individual who has dedicated a significant portion of his life to activities centred around water. With a background in water skiing and a love for exploration, he transitioned into a sailing and cruising lifestyle. Throughout his journey, Anthony has primarily worked in the outdoor recreation industry, gaining valuable experiences in and around the ocean.
Anthony's educational background includes a degree in Physical Education (Phy's Ed), which has provided him with a solid foundation in understanding outdoor ed and fitness. In addition to his academic qualifications, he has obtained commercial skipper and engineering certifications, further enhancing his skill set and knowledge base.
As a result of his diverse qualifications and experiences, Anthony has embarked on numerous adventures, facing challenges and finding joy along the way. His expertise and proficiency in various areas enable him to assist others in enjoying the beautiful reefs and islands in the vicinity. This fulfilling role allows him to share his love for the ocean with others and facilitate memorable experiences for those he guides and interacts with.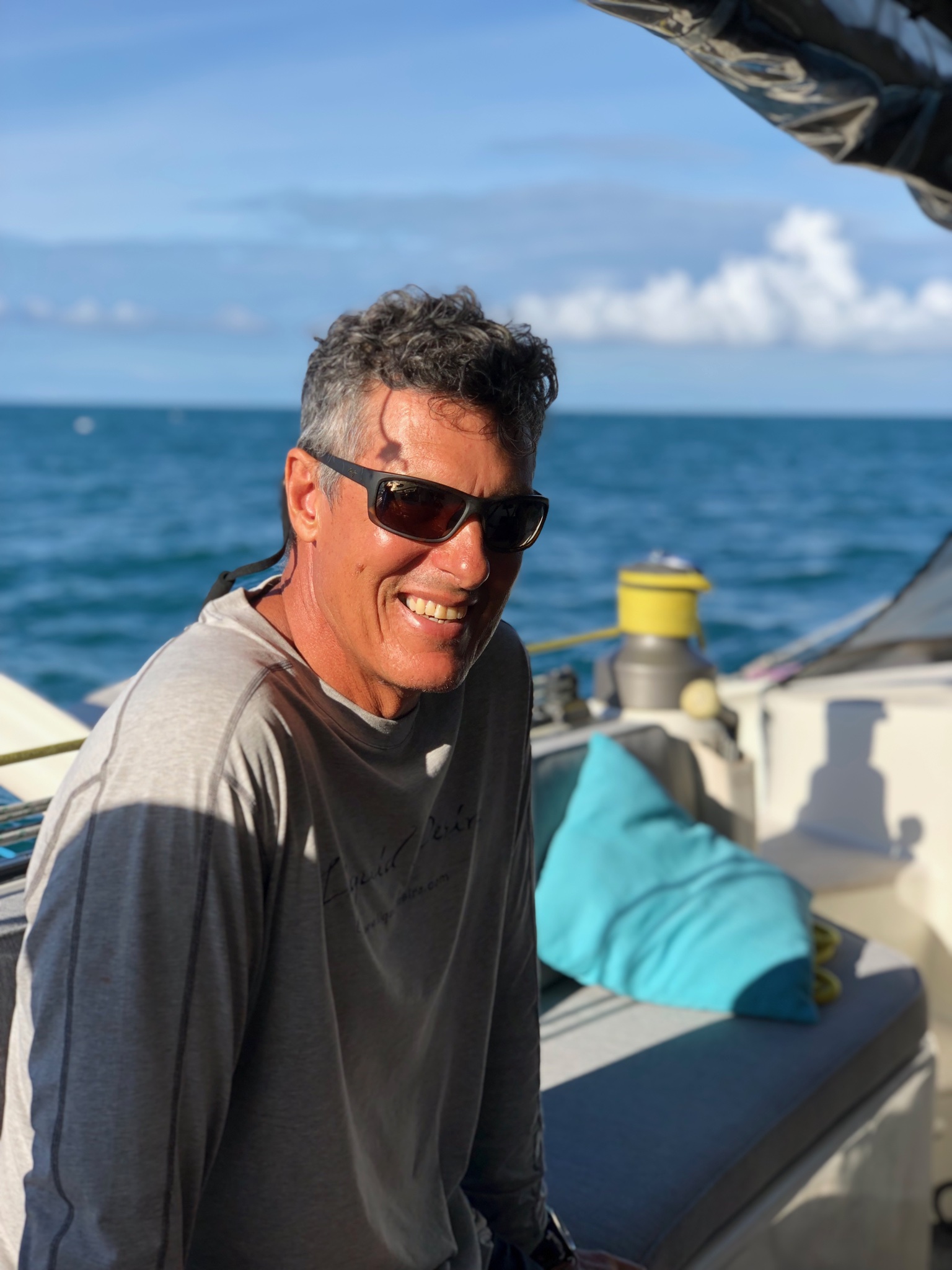 JUNLAN CHEN
CHEF

FIRST MATE
Junlan is a versatile individual with a strong sense of independence and a deep passion for adventure and travel. Originally from China, she grew up with a sense of wonder and a desire to explore the world. Junlan pursued an education in linguistics and became an interpreter in the health system, utilizing her language skills to bridge communication gaps in the medical field.
However, the allure of adventure beckoned Junlan, and she embarked on a remarkable journey by riding a bicycle across China. Starting in Beijing, she covered a staggering distance of 10,000 kilometres, crossing the Himalayas and traversing arid western regions until reaching India. This incredible experience further ignited her passion for travel and opened her eyes to the wonders of the world.
Following her cycling adventure, Junlan seized an opportunity to set up a hostel in Thailand, immersing herself in a new culture and spending nine fulfilling years there. It was during this time that she discovered her passion for cooking, inspired by the vibrant and flavourful Thai cuisine. Junlan's culinary skills blossomed, and she developed a deep love for the art of cooking.
Continuing her journey, Junlan travelled to Australia and embarked on a solo exploration, covering around 40,000 kilometres by driving throughout the country. This adventurous spirit led her to Port Douglas, where she crossed paths with Anthony. Their connection was strong, and they are now engaged to be married.
Living on the yacht full-time, Junlan combines her skills as a chef and masseuse, creating a rewarding and fulfilling pathway for herself. Her culinary expertise adds flavour and creativity to their shared experiences, while her skills as a masseuse bring relaxation and comfort to those they encounter.
Junlan's diverse background, love for travel, and culinary passion make her a valuable asset as a chef, first mate, and snorkel guide. Her ability to adapt to different environments and connect with people from various cultures adds richness to their adventures on the yacht. Together with Anthony, they create a harmonious partnership that allows them to embrace their shared love for the ocean and provide unforgettable experiences for others.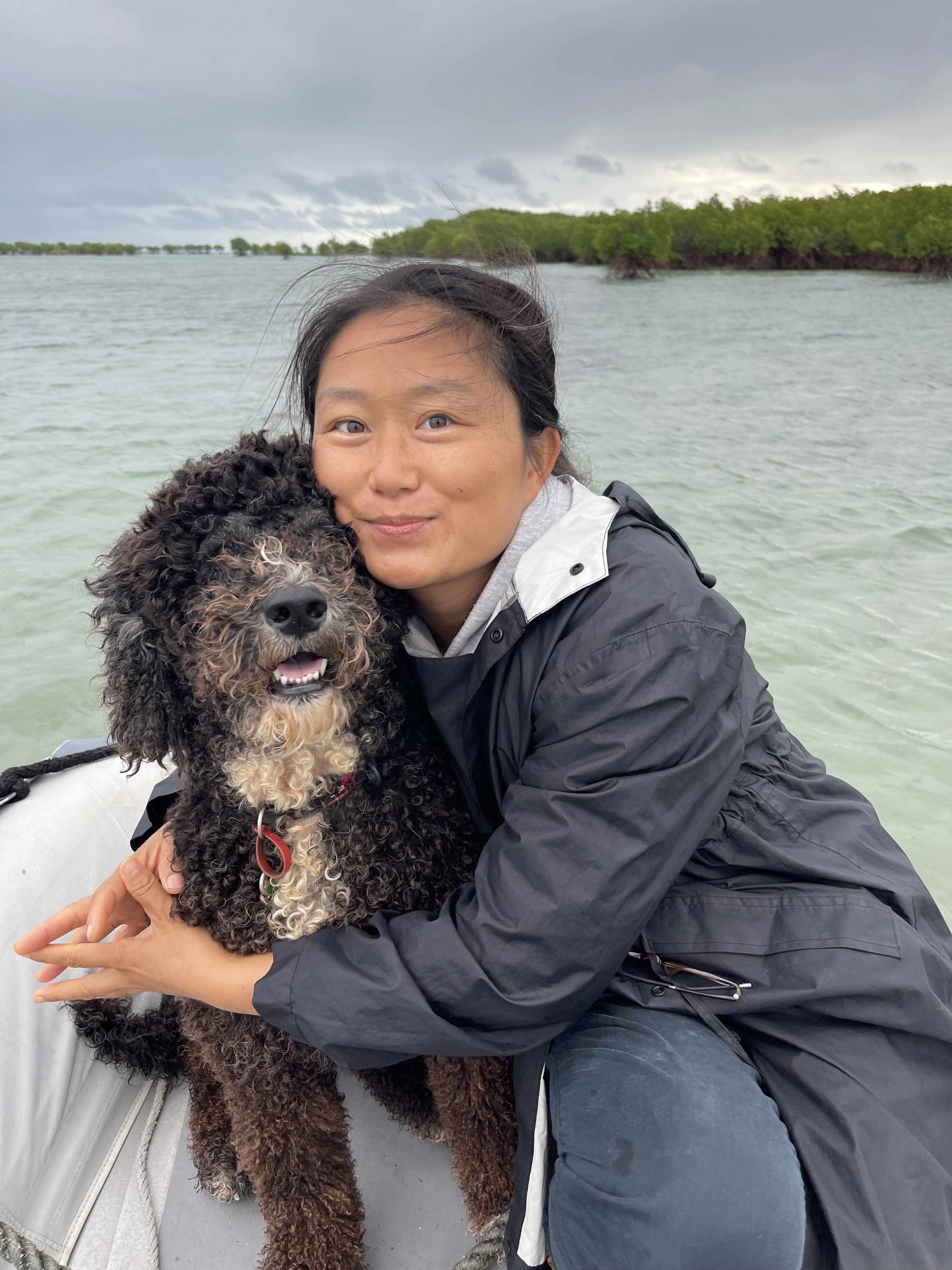 ALEX TOURTIAN
CHEF

SKIPPER
Alex is a highly skilled chef, skipper, and snorkel guide with a rich culinary background. Having begun his chef's apprenticeship in France, Alex has gained valuable experience working in numerous 5-star restaurants in Paris and London. His passion for culinary artistry shines through in his ability to create delicious Mediterranean meals that tantalize the taste buds of those on board. Beyond his culinary duties, Alex is actively involved in the daily operations and management of the yacht.
Alex's talent in the kitchen is complemented by his exceptional interpersonal skills. He has a natural affinity for connecting with people and has a particular knack for engaging with children. He often entertains young guests with magic tricks and games, creating a fun and enjoyable atmosphere on board. His laid-back and easy-going nature makes him a pleasure to be around, and his presence brings positive energy to the yacht.
While Alex is currently spending time running the yacht club restaurant, his experience and skills are still available to the team. With six years of dedicated service to Liquid Desire, he has become an integral part of the crew. His expertise in boat handling and knowledge of the yacht's operations make him a valuable asset even when he's not directly serving as the chef on board.
Alex's combination of culinary mastery, skippering skills, and friendly demeanour make him an invaluable member of the team. Whether he's delighting guests with his culinary creations, guiding snorkelling excursions, or ensuring the smooth functioning of the yacht, Alex contributes to creating a memorable and enjoyable experience for everyone on board.
Ari is a skilled sailor with a deep connection to the local sailing community. Having grown up on the family sailing catamaran, he has developed a strong affinity for the sea. Alongside his experience as a skipper and engineer, Ari brings a grounded personality to his role on board.
His extensive travels have taken him across the Pacific, Asia, and the Indian Ocean, accumulating a wealth of knowledge and ocean miles along the way. This hands-on experience has fostered a practical and resourceful approach to life, enabling him to handle various tasks such as repairs, rebuilding, maintenance, and skippering with ease and confidence.
Ari's interactions with people, especially children, reflect his patient, calm, and measured demeanour. He possesses a natural ability to connect with others, making him a great asset on board. His competence as a sailor is unquestionable, and his easygoing nature creates a welcoming and enjoyable atmosphere for everyone.
With his comprehensive skill set, personable character, and love for sailing, Ari is an invaluable member of the team. His presence adds depth and reliability to their adventures, ensuring that those on board have a memorable and safe experience exploring the seas.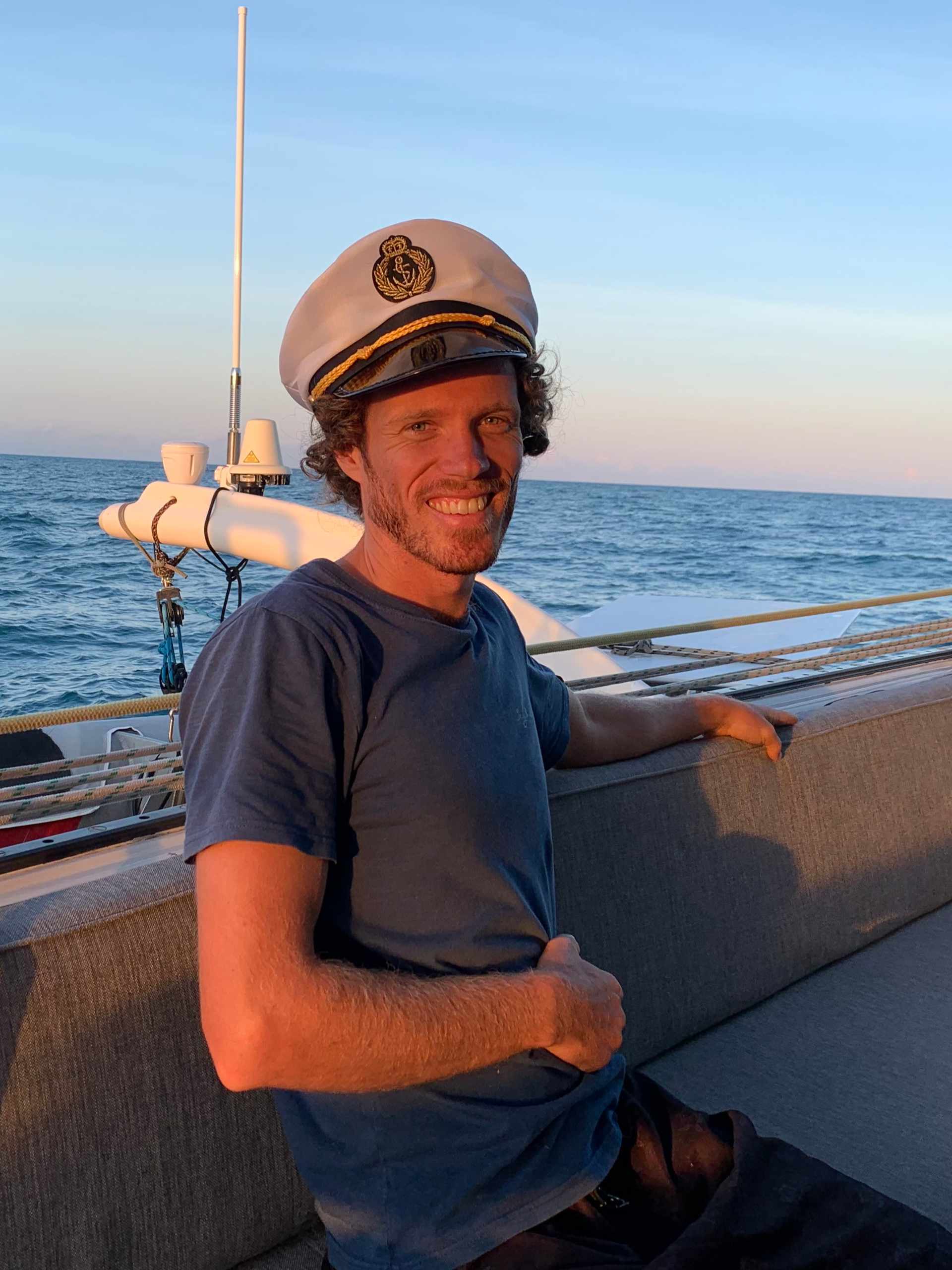 Fry is a talented individual who brings his culinary expertise and a sense of adventure to the team. He kickstarted his career as an apprentice chef in London, honing his skills in renowned restaurants both in England and Australia. With a passion for cooking, Fry's ability to create delectable and innovative dishes using locally sourced ingredients adds a touch of flair and creativity to their meals on board.
In addition to his culinary talents, Fry possesses a dive instructor background and has spent many years working on various vessels along the east coast. This experience makes him comfortable and at home on the ocean, allowing him to fulfil the roles of both a deckhand and a snorkel guide. His knowledge of the underwater world enhances the snorkelling experiences for guests, providing valuable insights into marine life and ensuring their safety.
Beyond his culinary and maritime skills, Fry is a multi-talented individual. He is an accomplished musician, adding a melodic touch to their journeys, and he is also a thrill-seeker, engaging in skydiving motorbike riding and base jumping. This adventurous spirit infuses the team with positive energy, while his wit and humour create an enjoyable and lively atmosphere on board.
Fry's ability to wear multiple hats, his culinary prowess, and his vibrant personality make him an invaluable asset to the team. He brings a sense of excitement and creativity to their endeavours, ensuring that guests not only enjoy delicious meals but also have a memorable and entertaining experience throughout their time on the yacht.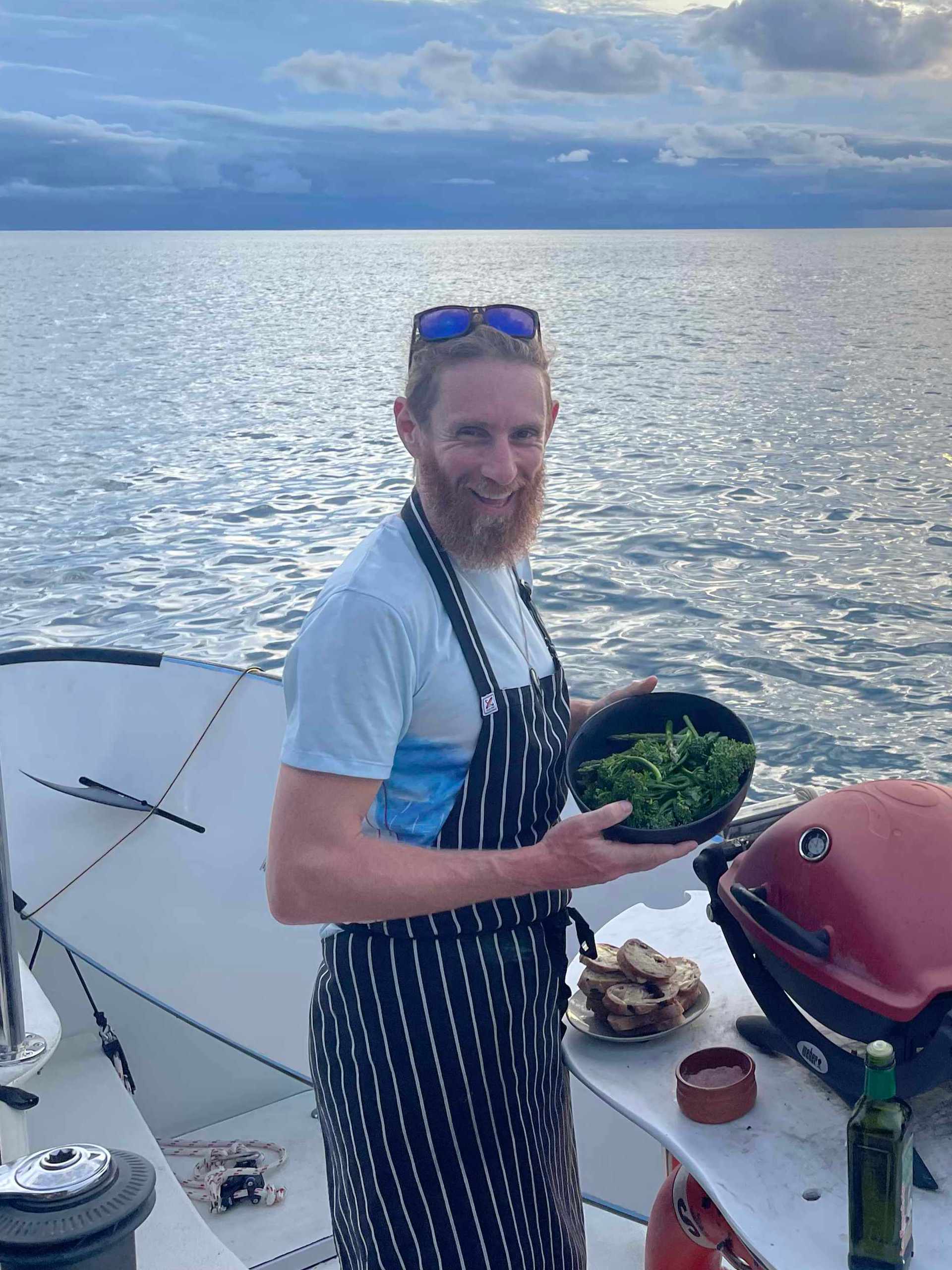 SPLASH THE DOG
FIRST MATE
Splash is a Portuguese Water Dog. She is super friendly and a great fun.
Loves kids and people and is no shedding.
Splash is a regular on the boat and is very easy going and entertaining.